Tattoo Art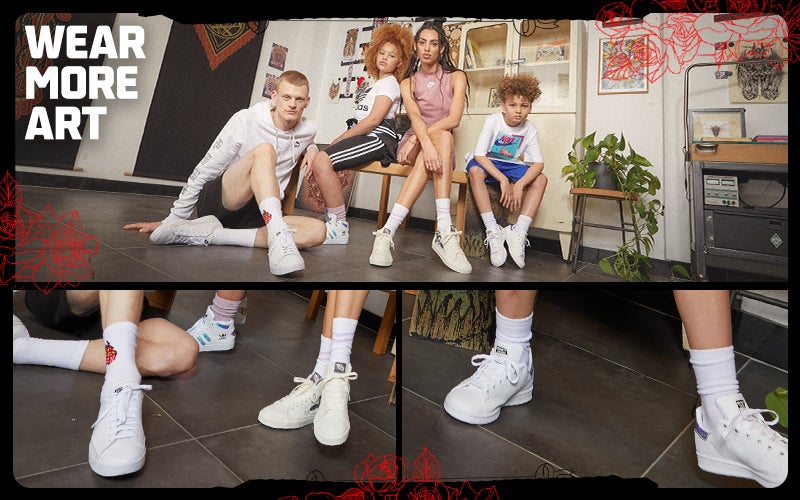 Express Yourself in Tattoo Art
Get ready for the second drop of our Spring 21 Campaign 'Wear More Art' As we celebrate creativity across Europe this season, we pay homage to Tattoo Art. To mark this launch, we've partnered with British tattooist Jade Chanel to bring her own interpretation to the campaign – resulting in a series of sneaker illustrations accompanying the collection inspiring others to Wear More Art.
Jade Chanel is a tattoo artist based in London. Famous for her fine line tattoos of floral and animal designs, as well as lush Egyptian scenes, Jade is part of a progressive wave in contemporary tattooing which promotes empowerment, compassion and inclusivity.
Jade commented: "For this project, I drew inspiration from my tattoo style. I'm known for my nature and floral elements which have lots of intricate, fine line detailing but I also use a technique called cross-hatching which helps keep my design transferable into a clean stencil, which is then applied to the skin. This worked perfectly for this project as I had to display different textures for these iconic sneakers. I'm so proud to be working with Foot Locker on this project and can't wait for people to see my art in May 2021."
Sneak Peak: Behind the Scenes
Meet: Zoie Kasper. She is a recruiter at our Foot Locker Europe Headquarters. Photography is one of her passions and therefore we asked her to be part of our Spring 21 Campaign as one of the photographers on set. At the moment she has one tattoo, but she would like to get a lot more in the future because she has a lot of different ideas. We hope this campaign will give her some inspiration for her next tattoo 😉.