Street Art

Covered in Street Art

Be prepared to see art like you've never seen before. This season, we are celebrating Street Art and Tattoo art across Europe with our new Spring 21 Campaign 'Wear More Art'. To mark the launch of our first drop, we've partnered with Italian street artist Rediet Longo, known as RED, and invited him to illustrate the campaign – creating a series of sneaker illustrations accompanying the collection.
In creating his artwork for the campaign RED was inspired by the urban world of Milan and commented: "Combo sneakers and streets are part of my daily routine, "sneakers inspired by art" and "art inspired by sneakers" are my personal manifesto when deciding what to wear. I couldn't be happier partnering with Foot Locker. Comfort is key when it comes to sneakers and Foot Locker's concepts of "WEAR MORE ART" and "SAVE THE YOUTH" are always has on my mind while creating collaborations and art projects."
RED has also created a mural in Milan to represent the unity of the city's ethnically diverse youth. The Italian artist held a creative workshop in collaboration with charity 'Paint the Future', inviting Milan's kids to bring their thoughts, ideas and creative vision to the session.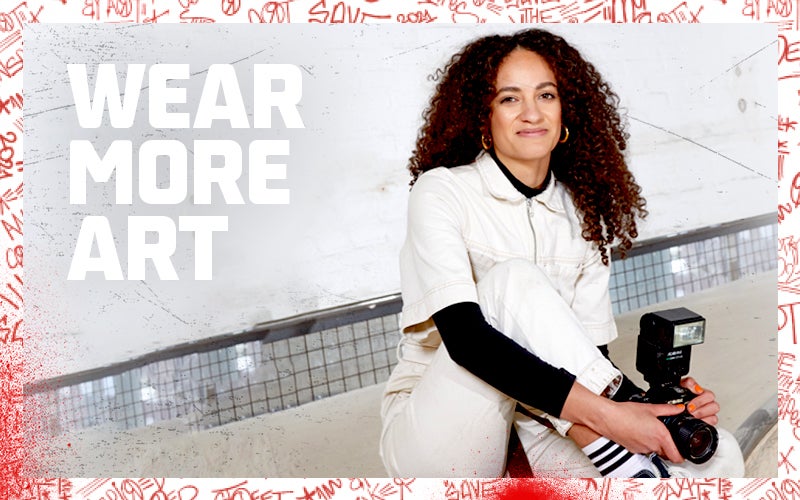 We invite you to come celebrate creativity and the freedom of self-expression with us. Speaking of which, we'd like you to meet Zoie Kasper. She is a recruiter at our Foot Locker Europe Headquarters. Photography is one of her passions and therefore we asked her to be part of this campaign as one of the photographers on set. In her spare time, she loves walking around the city with her camera and looking at all sorts of street art and murals. We're very excited that she decided to join us on this campaign.
Ready to feel inspired? Discover our collection below and emerge yourself in the creative world of contemporary street art!
Shop the Collection